Advanced Low-friction Tin-free Antifouling

Tin-free Effluent Control Antifouling Paint

It uses innovative barriers technology which is a totally different anti-fouling mechanism compared to conventional self-polishing copolymer anti-fouling paints.

Anti-abrasion Epoxy Paint

Universal epoxy paint which can be applied anywhere within the ship. It has superior corrosion resistance for marine structures and ships and shortens project downtime by eliminating other application steps. IMO Performance Standard for Protective Coatings(PSPC) Approval

Self-Priming Top Coat

Organic & Inorganic hybrid coating suitable for various substrates such as metal, concrete, etc. Low VOC, a State of the Art Maintenance Coating

Low-oder Solvent-free Epoxy Coating Systems

It has a superior adhesion, impact and abrasion resistance with extremely low odor. Also, PR-SB can be used for wet or damp areas requiring special bonding strength.
OTHERS
· Alkyd Coating
· Chlorinated Rubber Coating
· Epoxy Coating
· Urethane Coating
· Sealer Coating
· Acrylic Coating
· Heat Resistant Coating
· Zinc Rich Primer
· Others
Compartment

Area
Generic Type

DFT (㎛)

Outside shell

Flat bottom
Side bottom
Rust preventive
Antifouling coatings

100 ~ 200


100 ~ 200

Topside
Exposed deck
Deck house
(outside)
Rust preventive
Finishing coatings

100 ~ 200


50 ~ 100


75 ~ 150


50 ~ 100

Internal parts

WBT
(water ballast tanks)
Others
Rust preventive

160 ~ 320
Prevents marine organisms from sticking
The formation of low surface energy antifouling-wall-blocks the attachment growth of seaweed for a long time, demonstrating antifouling performance.
Compliance with the IMO Rull (AFS/CONF/26)
Tin-free antifouling paint in accordance with International Maritime Organization regulations and excellent antifouling performance
Reduction of ship operation costs due to decreasing of friction between the ship and sea water (high-class version)
Next generation eco-frendly low elution tin-free
Eco-friendly paint that suppresses seawater elution and prevents marine pollution
Anti-fouling performance comparison
TUG BOAT after 24 months sailing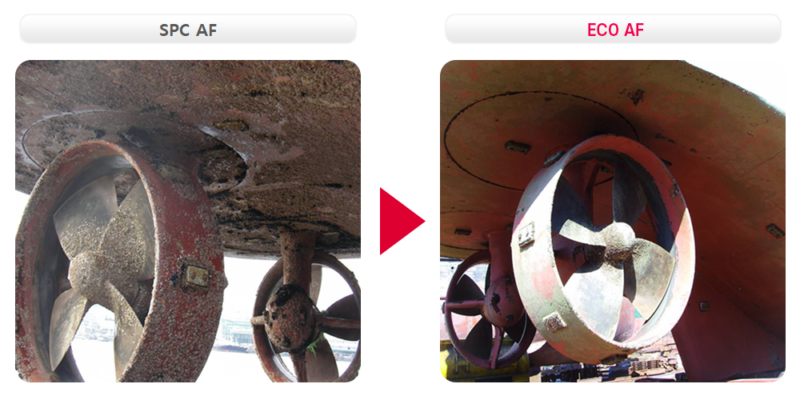 Fishing Net Antifouling Paint
ECONET AF-301 is a fishing net coating with excellent anti-fouling performances.
It prevents seaweeds and barnacles from sticking on the net to protect the fish in the fish farm.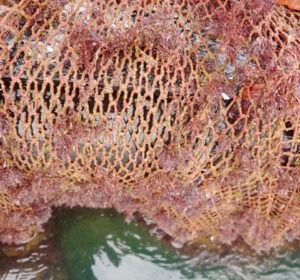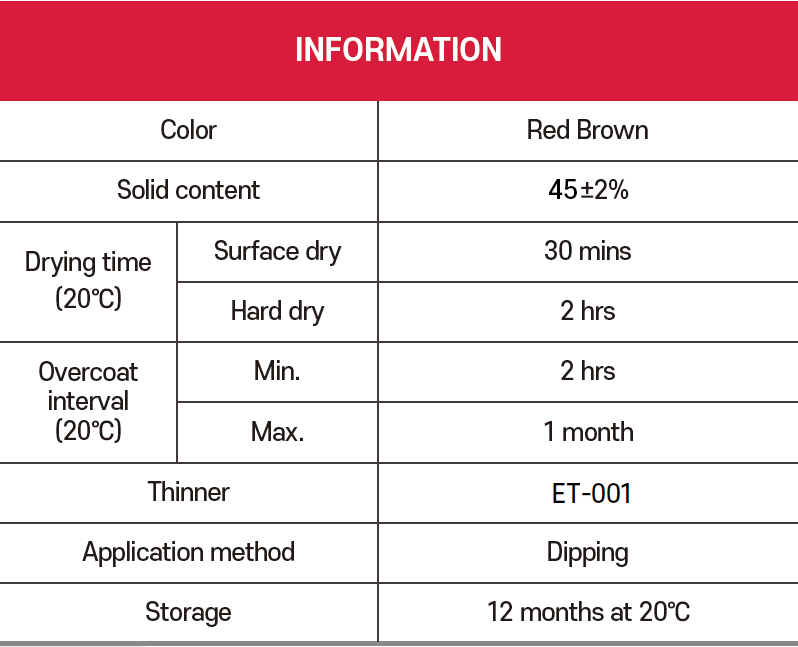 For used nets, remove the contaminants on the net first before applying

After opening the can, add ET-001(thinner) and mix well

For dipping method, mix from time to time during the process to make sure heavier solids are equally distributed

UV exposure up to one month won't affect the anti-fouling performance, but try to avoid long-term UV exposure